Key Industries
Richland County is uniquely positioned to offer career opportunities in growing and specialized fields. Here's an overview of some key industries that make Mansfield thrive.
Jump to:
Advanced Manufacturing
We are makers. Richland County has been developing, producing and delivering parts and services for 100+ years. What does that mean? A century worth of experience, a talented workforce, diverse supply chain and exceptional market access that defines innovation. Something that will only be increasing for the next 100 years.
Metal Fabrication and Machining
Ohio is a leader across the country for metal production and fabrication. Why? Because of Richland County. Around Mansfield, there's an exceptional established distribution infrastructure, a relatively low cost of doing business and a talented, dedicated workforce. All those combine to make fabrication a huge industry in the area with tons of growth potential.
Automotive
It may be surprising to some, but Ohio is the second-largest automotive state in the U.S. It stems from housing a complete end-to-end automotive supply chain. Our state serves as a leading producer and supplier of key automotive components and raw materials for the North American automotive industry. That matters to residents as it makes Mansfield an ideal location to grow and expand your automotive operations. Many of these companies are in Richland County, supporting a range of OEM supply chains.
Plastic Products
Some of Richland County's largest and fastest growing companies are plastics manufacturers. It's an anchor to the Northeast Ohio region, which is home to nearly 1,000 polymer and materials companies. Training talent for the industry has never been easier. One, we have a local certificate covering the basics of polymers. And two, we are close to two of the top 10 polymer engineering schools in the country with Case Western Reserve University and the University of Akron.
The region's strength across the entire value chain is clearly evident– from extraction (Utica and Marcellus Shale) and processing to manufacturing and distribution. Polymer and materials companies benefit from access to markets, customers, innovation and a skilled, knowledgeable workforce. Businesses have all the resources they need to thrive in their established markets and expand into new ones.
Logistics and Flexible Packaging
Ohio is built for modern logistics and distribution. Our state's multimodal infrastructure and prime geographic location guarantee that companies can reach a significant amount of U.S. and Canadian customers – 60% are within a day's drive – as well as customers around the world. In addition to a highly connected interstate highway system, and significant rail infrastructure, Richland County also has some of the best independent flexible packaging companies to help craft the perfect solution for your needs.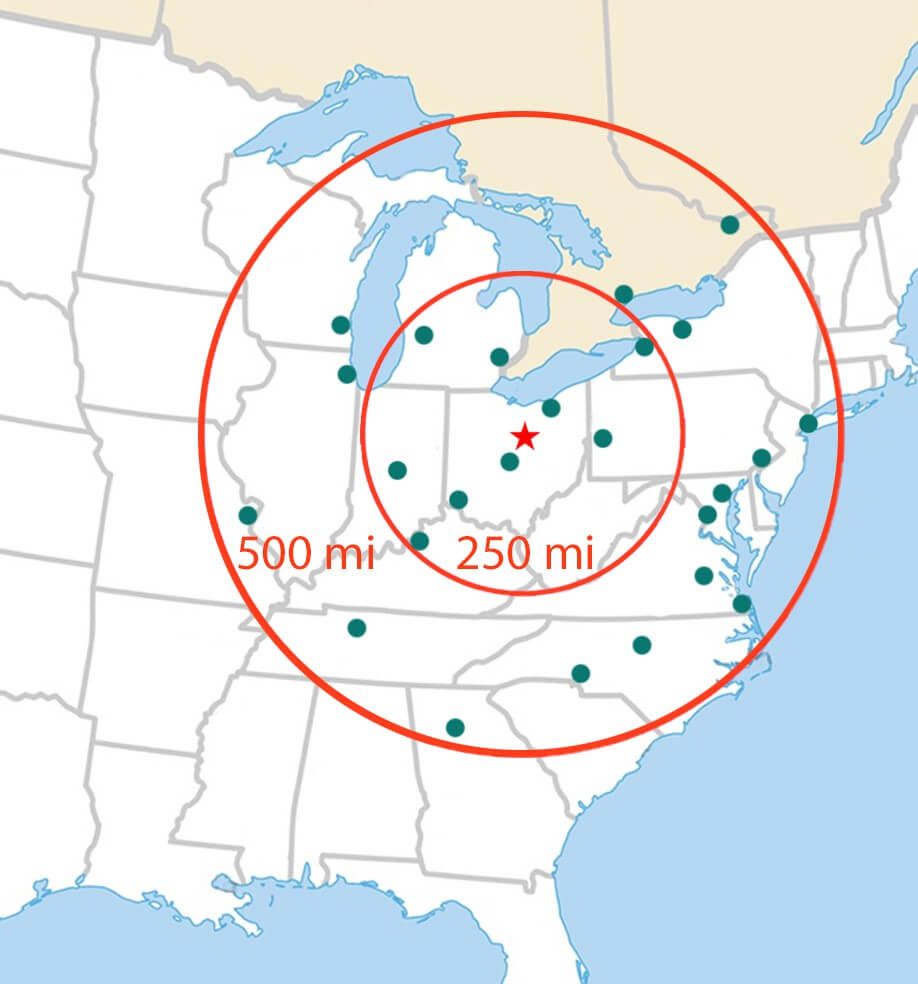 Healthcare
One of Richland County's strongest industries revolves around the healthcare system. The greater Mansfield area boasts seven health systems. Several renowned health systems are heavily invested in providing care here, including: OhioHealth, Nationwide Children's, Akron Children's, University Hospitals, and The Cleveland Clinic. Locally, Avita Health Systems operates several primary care centers and a hospital in a former retail location at a shopping mall. This robust sector requires ample workforce and they are educated here. There's Ashland University's College of Nursing and Health Sciences and North Central State offers several technical certificates in the health sciences field, including: Pharmacy Tech, Surgical Tech, Practical Nursing, and many others. Richland County has become a healthcare hub serving the population between Cleveland and Columbus.
Fluid Movement Cluster
The Northeast Ohio region is ideally situated near large oil and gas deposits in the Marcellus and Utica Point Pleasant Shale formations. What does that mean for the people here? The proximity to lucrative natural gas liquids (NGLs) in these formations, coupled with the strength of the region's supply chain and outstanding access to customers, makes Ohio — particularly Northeast Ohio — an ideal location for growth-oriented, oil-and-gas-related businesses.
As a state, Ohio produces more than 4.2 billion cubic feet of natural gas per day, which is 7 times the output produced in 2014. From 2011 – 2016, approximately $51 billion has been invested in building out Ohio's shale value chain.
As a result, both job growth and investments continue to gain momentum, as domestic and global demand for natural gas, NGLs and other end products continue to rise. Ohio's shale and petrochemical production is driving investment and helping other industries grow.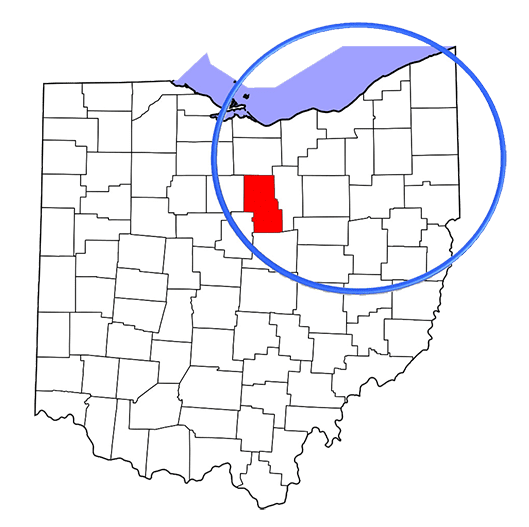 Government
This is the non-cyclical sector that is steady when others boom and consistent during a bust. The jobs boards are always looking for hires around the public servant sector. From corrections to the census, there are a lot of opportunities to have stable, pension-backed employment.